What to Wear: Clay Shooting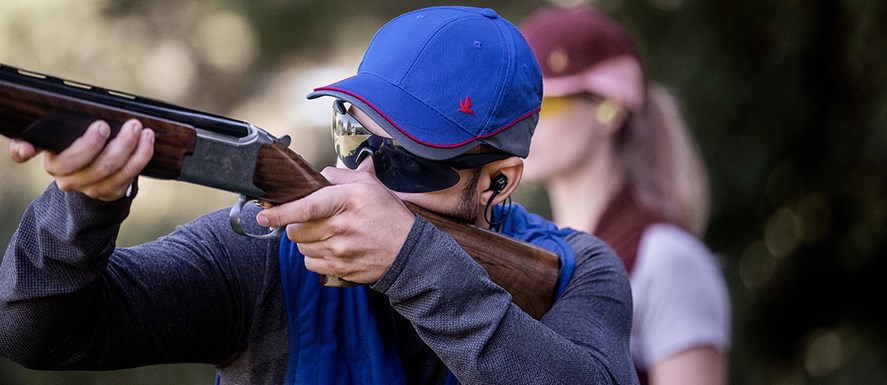 Whether you are a beginner or keen shot, clay pigeon shooting is a brilliant individual and team sport. Clay pigeon shooting now has at least 20 different forms of regulated competition called disciplines, although most can be grouped under the main headings of trap, skeet, and sporting. Online and particularly in our shop at Bisley, we stock a wide range of clay specific clothing and accessories. Below we have highlighted some key essentials you will need when clay shooting. View the full clay shooting range here.
Safety first, whatever discipline of shooting. We recommend wearing a pair of ear defenders, but especially for clay as more shots are fired on a clay ground.
They range from very simple Disposable Foam Ear Plugs to very technical ear defenders which removes only the harmful noise. The Peltor SportTac Ear Defenders are equipped to cut-out sound when a shot is fired, among a variety of other handy features. Make sure your hearing protection has a comfortable fit that doesn't impede gun mount.
To view the full range, click here.
All clay shooters should wear eye protection, quite often a clay ground can provide this for you, but double check before you arrive.
Our range of shooting glasses include brands such as Bollé and Wiley X, and ensure you have maximum protection and the correct lens for certain lights when shooting.
For ever-changing British weather conditions, the William Evans Interchangeable Lens Shooting Glasses feature 4 interchangeable lenses to ensure optimum performance.
To view the whole range of safety glasses, click here.
This is the most essential piece of kit for most clay shooters.
The Seeland Men's Skeet II Vest is fantastic value for money. This vest features large front cartridge pockets, reinforced shoulders and great storage with a back pocket, loop for glasses and ear defender strap.
A shooting vest makes it easier to access your ammunition, as large pockets at the front will hold an ample number of cartridges.
To view our range of shooting vests for men, click here.
Or, to view our range for ladies, click here.
As most clay shooting is within the summer months, a light shirt will be sufficient - or even a polo.
New for this season, the Beretta Team Long-Sleeved T-Shirt is made using jersey cotton and features a bold Beretta logo on the arm. To view our range of men's T-Shirts and Polo Shirts, click here. Or, if you are looking for a more formal shirt, you can view our men's range here.
We also offer a range of shooting shirts for ladies, which can be found here.
Especially if it is a really sunny day, a baseball cap or flat cap will keep the sun out of your eyes. With fantastic brands such as Browning, Beretta and Seeland, you're guaranteed exceptional quality.
The Seeland Shooting Cap matches the Skeet II Vest for an excellent overall look.
With our carefully selected range of clay shooting caps, you will find both style and practicality all rolled in to one. View the full range here.
In wet weather, wellingtons are ideal, the Seeland Men's Noble Gusset Wellington Boots are perfect, available in UK sizes 8-12 with a dual density sole that offers all-terrain traction and abrasion resistance.
If it's warmer, a sturdy pair of trainers or walking boots are perfect, something like the Härkila Men's Stornoway GORE-TEX Boots.
View our full range of men's shooting boots here.
You will also find our full range of ladies shooting boots here.
If you are going to wear the coat while clay shooting, it needs to fit well and not restrict movement.
If you are clay shooting in Winter however you will need something much warmer, a Seeland Men's Classic Winster Jacket will keep you dry.
For ladies, the Musto Ladies Highland GTX Ultra Lite Jacket is available in UK sizes 8-16 and designed for superb protection from harsh weather conditions.
To view our full range of waterproof jackets, click here.
In regards to any extras you might need for the day, a Shooting Bag or Cartridge Bag to carry cartridges, chokes and any extra clothing you think you'll need for warmth would be ideal.
The majority of Shooting Vests come with added protection, or there may be space to insert a Recoil Pad. These are highly recommended to absorb the impact of the shot.
These are the key essentials when it comes to clay shooting, but you can find our full range of products available here.
---
Where to Shoot
We recommend Bisley Shooting Ground, it is just 30 miles from central London and is located within 3,000 acres of stunning Surrey heath and woodland. It is described by many as the country's top shooting school with industry leading coaching.
William Evans has a shop adjacent to the Bisley ground, so if you've forgotten anything you might need then our team will be more than happy to help. If you wish to have cartridges ready to collect on arrival or for any more information, please call +44 (0)1483 486 500 or email bisleyshop@williamevans.com.
William Evans Ltd.
The Old Armoury,
Queens Road, Bisley Camp,
Brookwood, Surrey,
GU24 0NY, United Kingdom
We look forward to welcoming you.