What to Wear - Game Shooting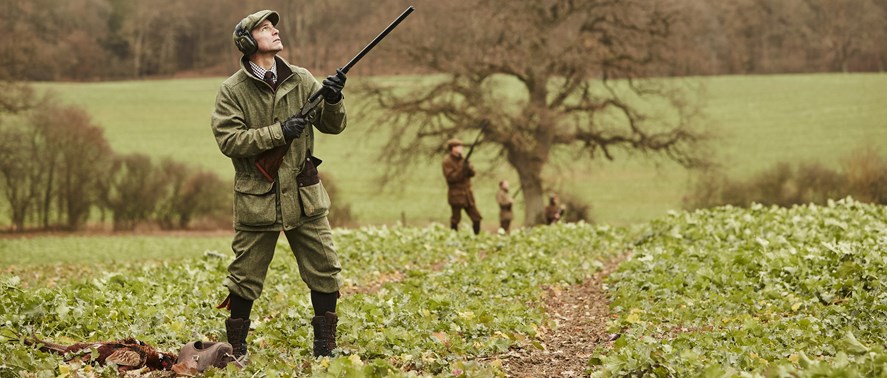 If it's your very first shoot, making a choice on the perfect outfit can be daunting and shooting etiquette can seem extensive. There are a few practical items one should not arrive without; ear defenders, a hat and sensible footwear. But for the rest of the outfit there are many more options. It is advisable to check the dress code with the host, but aim to pick neutral green and brown colours and you can't go wrong.
A top tip is to check the weather; your days shooting will be vastly improved if you are cool or warm, comfortable and dry. Below is a selection of the range of shooting attire we stock at William Evans, and the key pieces our Gun Rooms always opt for. View the full game shooting range here.
This is the most important item in your kit bag, whether you choose simple Disposable Foam Ear Plugs or more advanced digital headphones, you need to ensure you remember to pack them. Make sure your hearing protection has a comfortable fit that doesn't impede gun mount.
It is important to remember that even spectators will require a pair of ear defenders to protect their ears.
We also offer a small range of ear defenders for children.
To view the full range, click here.
Most opt for a tweed flat cap on a game shoot, which can be matched to the rest of your outfit if you stick with the same brand and tweed design.
Tweeds such as Ainsley from Laksen and Stornoway from Härkila are often very popular for game shoots.
Our range of flat caps are perfect for keeping the sun from your eyes. We also have waterproof versions such as the Musto Men's Technical Tweed Cap.
Our collection of hats and flat caps for women are also available online with William Evans and can be found here.
The majority of Game Shooting is during the winter so your jacket needs to keep you warm and dry. If the weather is likely to be wet, a waterproof jacket is essential.
You'll also want to ensure the fit provides sufficient movement to swing your gun, and that the pockets are big enough for cartridges. Our selection of tweed provides all those features and more. The New St. James Tweed from William Evans has been designed for superb practicality and comfort in the field.
Shooting jackets for women can also be found here.
All William Evans branded Tweed Jackets are dispatched with a free garment bag to help you take care of your jacket.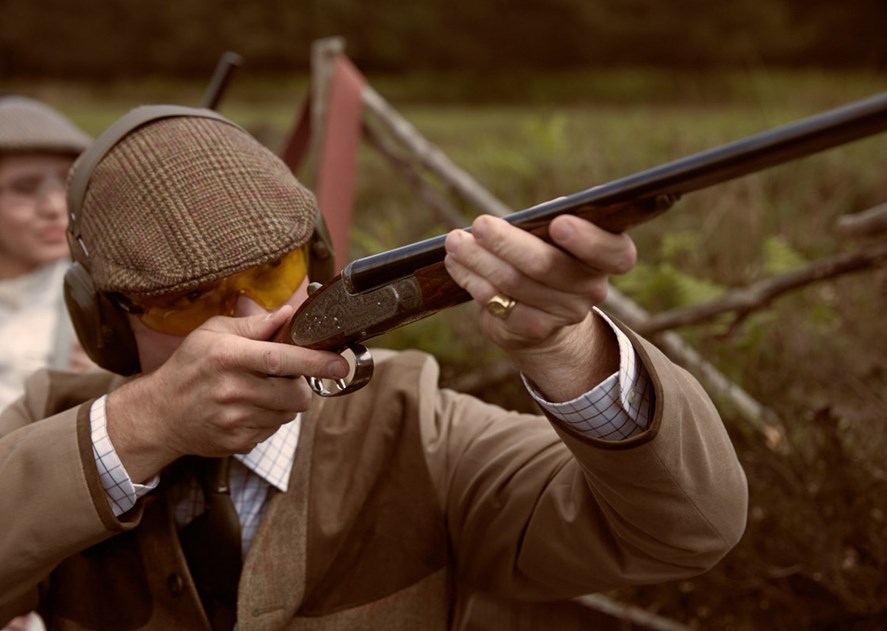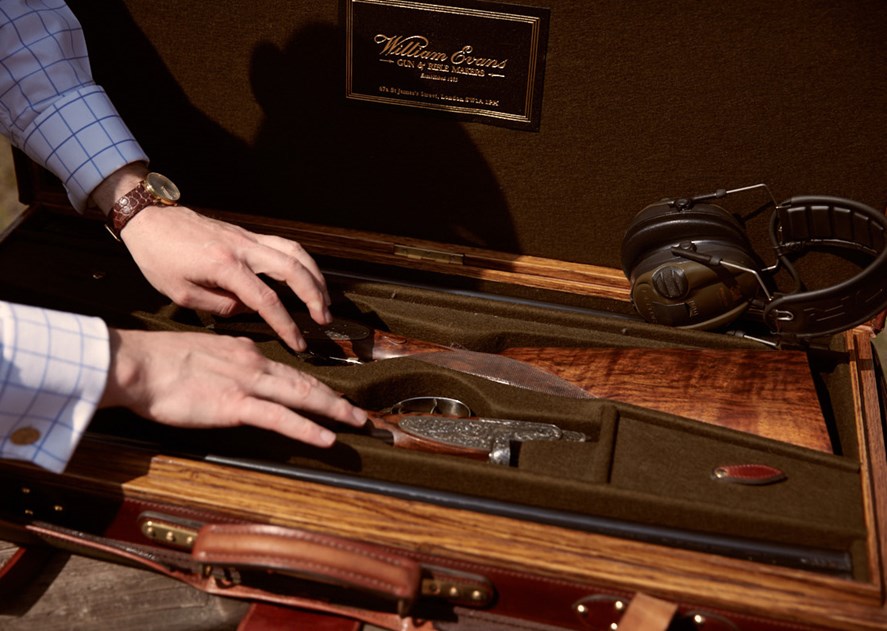 At a formal shoot you should wear tweed breeks or trousers, these do not necessarily have to match your jacket exactly, but the tweed should be complimentary.
For a more casual shoot plain moleskin or cotton breeks like the Laksen Broadlands Breeks suit. For warmer conditions at the start of the season, the Schöffel Ptarmigan Men's Light Tweed Breeks are perfect.
At William Evans we stock a vast array of tweed and plain breeks.
View our range of women's breeks here.
If you opt for breeks, then to complete the look, be sure to get some shooting socks. Hiking/walking boots will be best suited if wearing trousers.
If a comfortable country Tattersall shirt is what you are looking for, the Schöffel Men's Tattersal Check Shirt made from 100% cotton is perfect. A natural colour scheme is more traditional however brighter colours are also acceptable.
For grouse shooting wear darker colours to avoid being spotted - the Härkila Herlet Tech Men's Shirt is one of our best sellers for grouse season.
Our selection of shooting shirts for women are also available here.
For extra protection in case of bad weather, especially if you have opted for breeks we recommend having overtrousers like the Härkila Orton Men's Packable Trousers, these are perfect to cover up instantly in unexpected showers, and no need to remove your wellingtons. As they are packable, the Orton Trousers won't take up too much space in your kit bag.
Although it is always handy to ensure you have waterproof trousers such as the Laksen Yukon Ladies Waterproof Trousers it is so convenient to be able to pack away your overtrousers and be dry to go about your day after your shoot.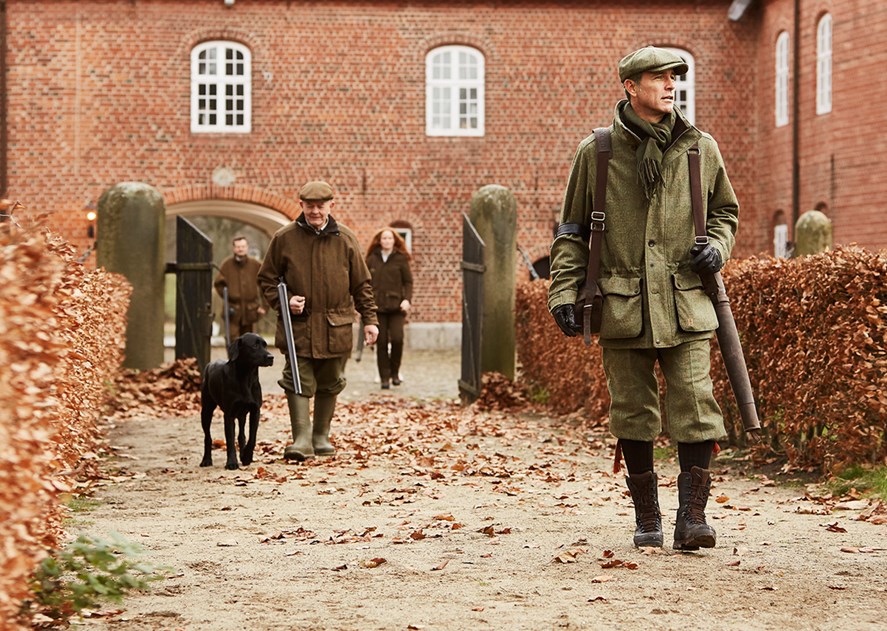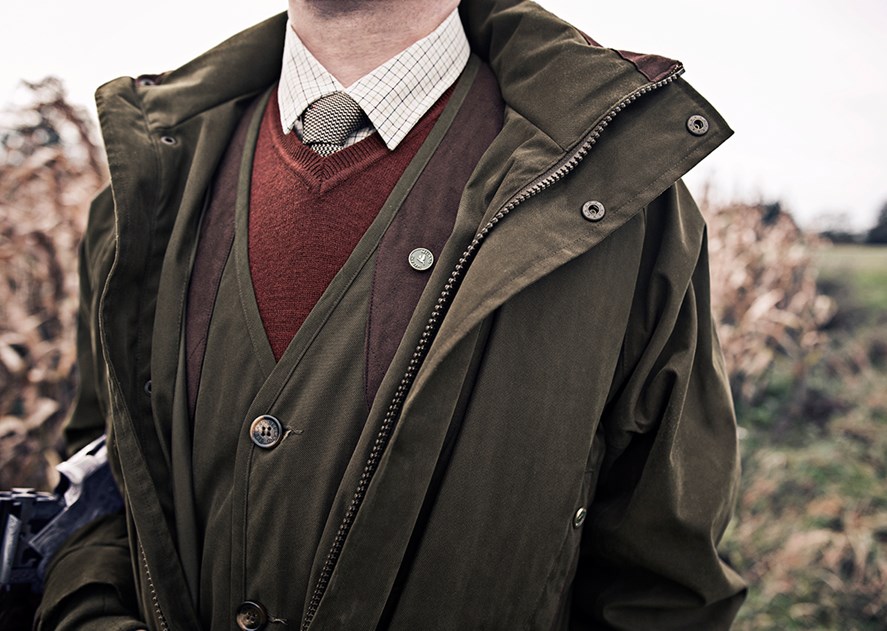 A tweed waistcoat such as the Härkila Stornoway Men's Tweed Waistcoat is sufficient instead of a tweed jacket in very warm weather.
At the most formal shoots, many wear a full three piece tweed suit, but for a more casual day, then a simple gilet is ideal.
The new Woodcock II Men's Waistcoat from Seeland is ideal if you want to move away from tweed.
Our selection of gilets and waistcoats for women are available online here.
Ties are optional at most shoots, but are a must if the day is particularly formal. Here at William Evans, we have a superb collection of woven silk ties in an array of designs. From pheasant prints to polka dot and diamond designs, there is sure to be the perfect tie to compliment your shooting outfit.
The Country Pheasant Woven Tie is one of our best sellers and perfect for a days shooting.
The William Evans Silk Mono Standing Pheasant Tie is available in a variety of colours, and one of our absolute favourites.
View our full range of men's shooting ties here.
We suggest a standard woolen jumper, and the William Evans Men Lambswool V Neck Sweater in an array of colours is perfect. We would suggest you opt for colours like Mocha or Tartan Green for grouse shooting.
Depending on the weather, you may not want to add the extra layer of a jumper, a shirt waistcoat and jacket is often sufficiently warm.
Our selection of sweaters, jumpers and fleeces for men are available here.
You can also view our range of sweaters for women here.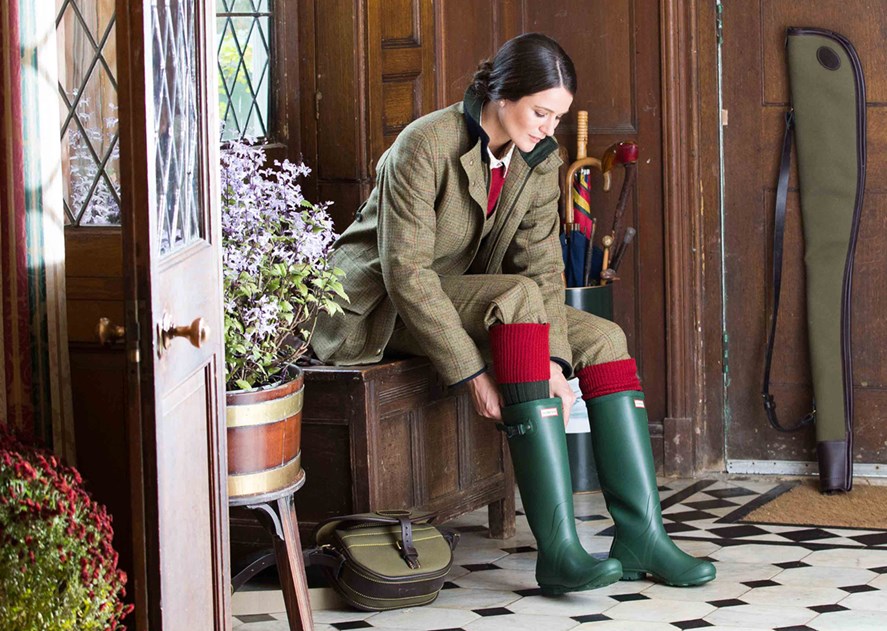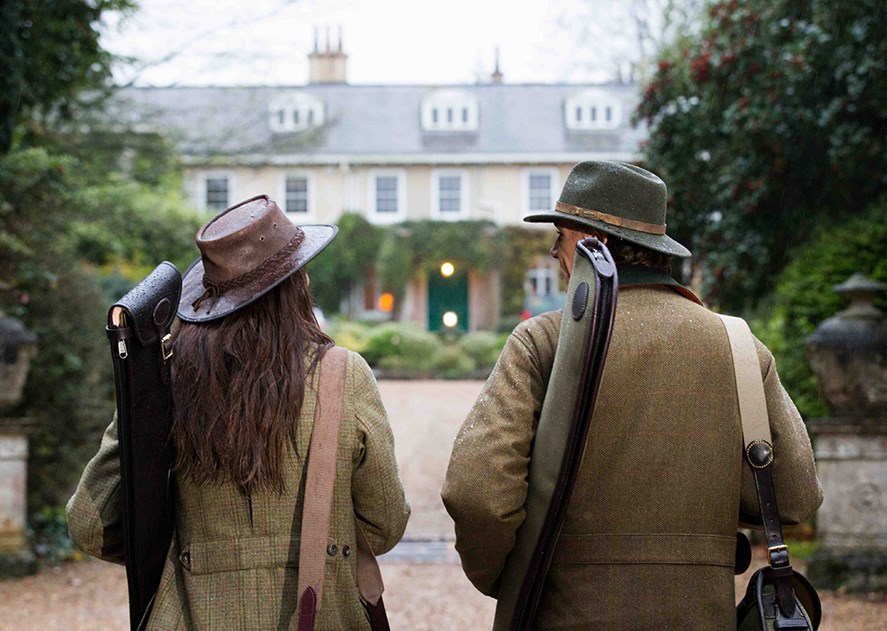 If you have opted to wear breeks rather than trousers, then you will need to invest in a pair of shooting socks.
Your best bet is to also wear them with a pair of garters to stop them slipping down.
If you are new to the concept of garters, they are to be tied around the leg towards the top of the sock so that the sock can then be folded over the garter to only expose the tassels at the bottom.
Shooting socks are great for adding a splash of colour to your shooting outfit.
Our selection of ladies shooting socks can be found here.
A good pair of walking boots is the most essential piece of kit if the ground is likely to be uneven or heather.
Härkila is our best selling brand for footwear, thanks to their durable walking and hiking boots. The Härkila Pro Hunter GTX 12" Shooting Boots are our bestsellers, made from Kevlar which is highly suitable for hunting in demanding areas such as heather and wetlands.
If the day is likely to be wet, a pair of Wellingtons are advisable and the range of Le Chameau Wellington Boots are fantastic and well made, too.
Our selection of footwear for women is available here.
At William Evans we have a wide variety of traditional cartridge bags and belts from canvas to leather and from small size pouches to large loader bags.
Personalised embossing is available on Croots cartridge bags for that extra special touch.
If you're looking for a durable cartridge bag at a fantastic price, the Bonart Range Cartridge Bag is an absolute must-have.
View our full range of cartridge bags here.
---
Wild game can only be shot during certain times of the year and for many species there is a close season during which time it is illegal to shoot them. This is to ensure that the species continue to flourish and are not hunted to extinction. Below is a list of all the dates within the UK.
GAME BIRDS
Coot - UK - 1st Sept-31st Jan
Curlew - Northern Ireland - 1st Sept-31st Jan
Duck & Goose - Inland England, Scotland, Wales - 1st Sep-31st Jan
Duck & Goose - Foreshore England, Scotland, Wales - 1st Sep-20th Feb
Duck & Goose - Inland/Foreshore Northern Ireland - 1st Sep-31st Jan
Golden Plover - UK - 1st Sep-31st Jan
GROUSE - England, Scotland, Wales - 12th Aug-10th Dec
GROUSE - Northern Ireland -12th Aug-30th Nov
Jack Snipe - Northern Ireland only - 1st Sep-31st Jan
Moorhen - UK - 1st Sep-31st Jan
PARTRIDGE - UK - 1st Sep-1st Feb
PHEASANT - England, Scotland and Wales - 1st Oct-1st Feb
PHEASANT - Northern Ireland, cocks only - 1st Oct-31st Jan
Ptarmigan - (only found in Scotland) - 12th Aug-10th Dec
SNIPE - common England, Scotland, Wales - 12th Aug-31st Jan
SNIPE - common Northern Ireland - 1st Sep-31st Jan
Woodcock - England, Wales, Northern Ireland - 1st Oct-31st Jan
Woodcock - Scotland - 1st Sep-31st Jan