A Journey Through Time: The William Evans story
William Evans, our founder cut his teeth working for James Purdey prior to 1871, and then onto the equally prestigious HJ Holland, and then Holland & Holland on it's change of name in 1876. This is where he learnt the fine trade of gun making, that would make him dream of opening his own establishment, where our story starts in 1883.
Establishing a name in gun making legend.
An early William Evans catalogue, circa 1886.
When he first set up on his own at 95a Buckingham Palace Road in 1883, he marked his guns "William Evans (From Purdey's)" no doubt to imply their good quality. Evans moved straight into the breech loading era and offered customers a very wide variety of types and grades of gun and Rifle, including imported specimens, to suit every purse.


He then moved the business to 4 Holden Terrace, Pimlico in 1885 (not known for it's gunmaking prestige) and then again in 1888 to 4 Pall Mall. Mr Evans moved again to 63 Pall Mall, where he is pictured in front of his shop above right.


During WWI a number of sniper rifles were fitted up especially for the Scots Guards, no doubt in part because of the proximity to their London barracks, and after the war was over, Evans returned to turning out good quality proven designs of both guns and rifles. Also specialising in second hand weapons, a side of the trade that some London makers felt beneath them at the time. Evans survived the pre-war slump and continued to make beautifully made guns which have carried on right up to today.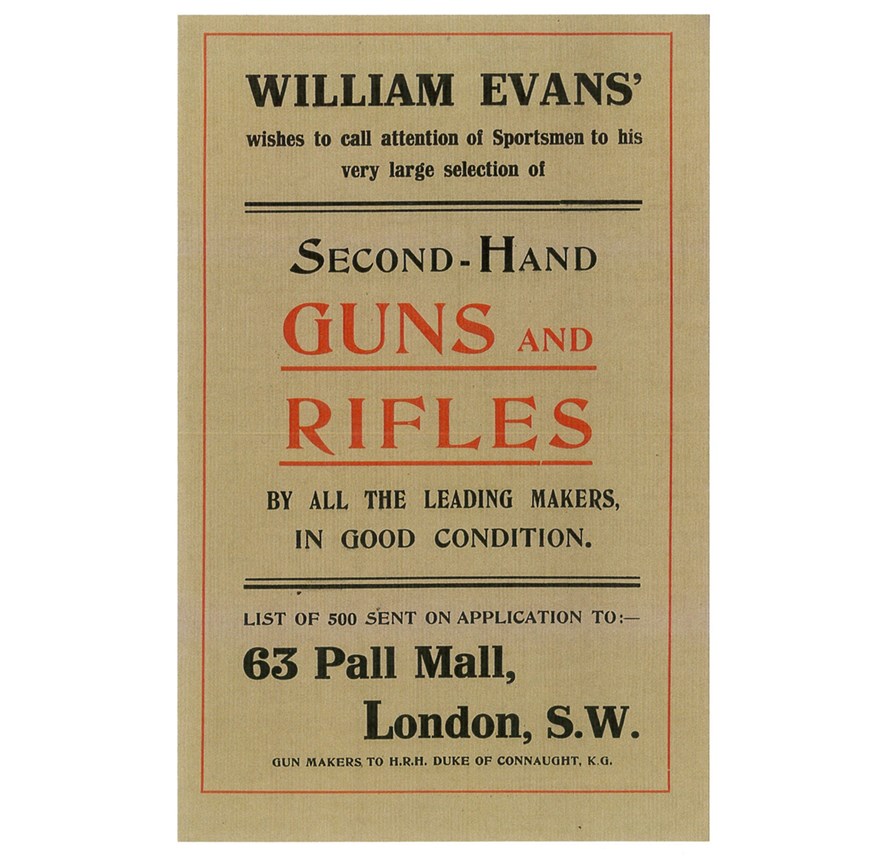 The Maharaja of Kota, Umet Singh II
Rolls-Royce Phantom Torpedo Sports Tourer boasted a large-calibre gun for seeing off charging game; a number of bird guns, rifles and shotguns mounted in the cabin; and, at the rear, a trailer towing a Bira .450-caliber hand-cranked machine gun - the primary weapon for hunting Bengal tigers.
The Maharaja of Kota, Umet Singh I,I ruling Maharaja of Kotah from 1889 to 1940 purchased 24 guns from William Evans in the early 1900's to use on Safari shoots. A fond cat shooter, in 1925 he ordered a bespoke Phantom I Rolls-Royce, customised with mounted guns and searchlights for tiger hunting, housed his William Evans guns when on hunts in Africa. An avid big game hunter, the Maharaja enjoyed ample opportunity to engage his passion on the extensive grounds of his family's private estate. Monarchs, world leaders and titans of international industry frequently hunted alongside him, as his guests.
Appointment to the Duke of Connaught
Prior to 1910, we were appointed the gun maker to The Duke of Connaught (Queen Victoria's third son) who proudly used our guns on shoots, and prized several in his collection.
To commemmorate our service to the Duke, in 2012, we issued the "Connaught" and "Connaught Premium". Based on the Grulla 216/216RB models, the "Connaught" features William Evans' classic 'Bouquet and Scroll' style engraving, a design similar to one used on the company's guns manufactured prior to 1910 for Prince Arthur
Disaster strikes at 63 Pall Mall
On February 23rd, 1944, just before 10.45pm, Pall Mall was hit by a war-time bomb killing 8 civilians and wounding more than 50 others. Our premises at number 63 were badly damaged beyond repair. However, we kept calm and carried on, relocating around the corner to 67 St.James's Street where it has remained ever since.
Fortunately, through the wreckage of the Pall Mall premises the staff of William Evans in 1944 managed to salvage records and day books dating back to 1890. These are still kept and used in the shop today to gain access to records prior to 1944. Having gone through a restoration program, these large heavy ledgers are tantamount to our rich historic heritage.
To weather the post-war fallout, Evans made the extra cash by selling bankrupt stock, ex condition weapons and reconditioned rifles.
Until the 1980's, our management was in the hands of three generations of the Dolden family and no doubt their continuity helped the business when many others went under or amalgamated in order to keep going. In the late 1980s, ownership changed over to Lord Ramsay who continued to inject life into a thriving business.
Today, William Evans is owned by Fred Mannix and James Cox, keen Canadian shooting businessmen who ensure William Evans is still kept following the same quality and attention to detail as it always has. "We're caretakers" says James, "Its 135 years old. The philosophy and the direction has to stay true to what is William Evans and that is, the pursuit and love of the outdoor sports."