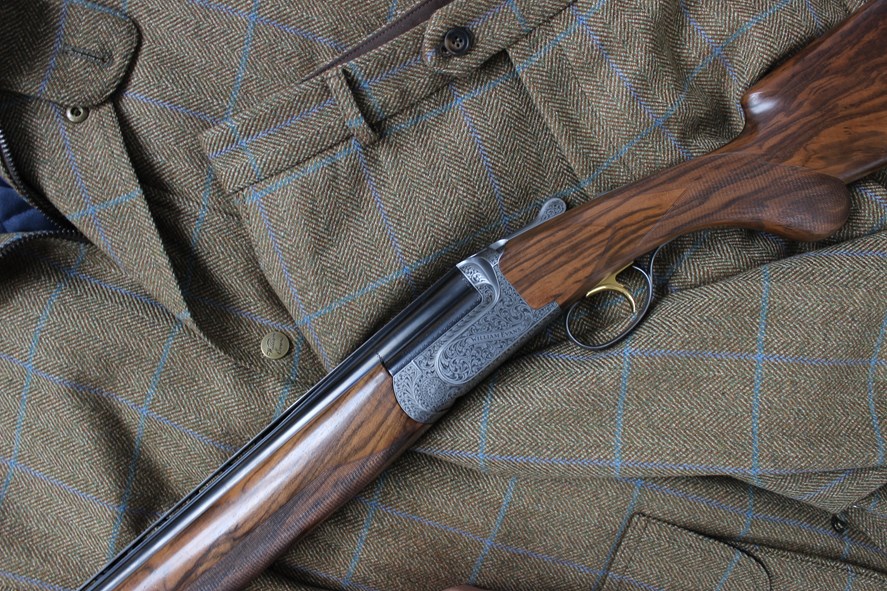 Produced in association with legendary Italian sporting arms specialist Armi Perazzi S.p.A., this exciting new model can be tailored to the customer's exact requirements, as the flexible manufacturing process allows for each model to incorporate a significant bespoke element.
In terms of specification and performance, the new St. James represents a significant evolutionary development which will build on the success of the original model. Launched in 2008, that broke new ground for William Evans by offering clients a practical, useable, economical, easy-to-maintain alternative to a side-by-side. By combining state-of-the-art Italian engineering with the traditional finishing skills for which the English gun trade is world-renowned the St. James represents an affordable, high-quality shotgun of the type for which William Evans is known by sportsmen throughout the world."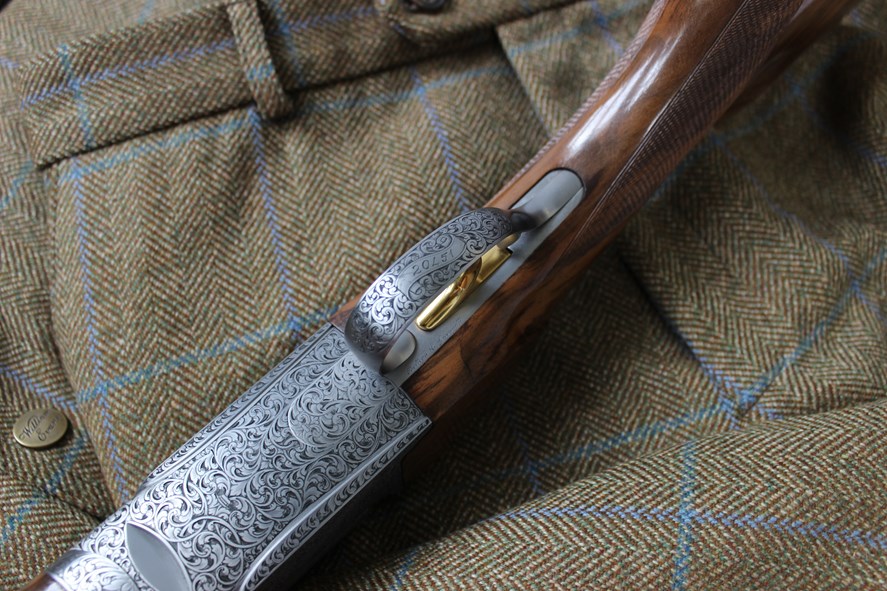 The St. James took William Evans back to its manufacturing roots by being produced in cooperation with another manufacturer, a way of working which led to the success of numerous English gun makers in the first half of the 20th century. During the 1920s and 1930s, for example, William Evans was one of 30 or so gun-makers in the St. James area of London to operate in this way and most of its annual production was based on boxlock actions produced in Birmingham, a city synonymous with the manufacture of high quality, reasonably priced sporting arms.
By the 1960s that infrastructure had disappeared, so when creating the St. James, William Evans had to look further afield and eventually chose to work with Italian sporting arms manufacturer Caesar Guerini. Clients quickly came to appreciate the ease of handling, reduced sensation of recoil and enhanced view of the target which this new model provided and the St. James became firmly established in the William Evans range.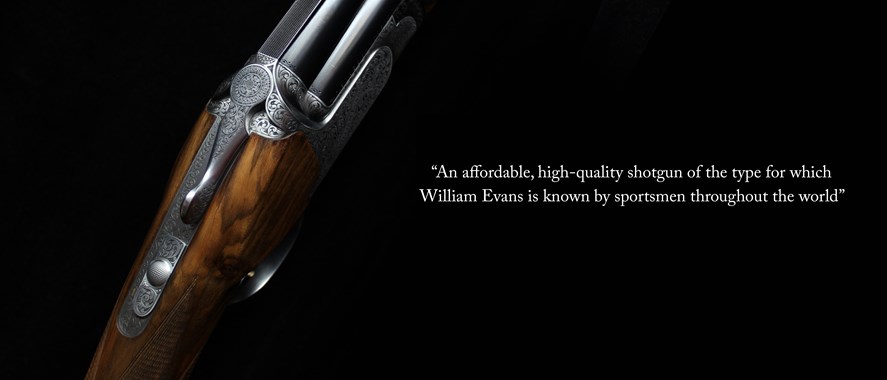 When planning the new St. James William Evans elected to work with Perazzi, founded in 1957 by 25-year-old gunsmith Daniele Perazzi. Since then, the company has built prestigious game and competition guns which fuse traditional gunsmithing methods, with high technology and top-quality materials. The combination of perfect balance, handling and innovation have resulted in a range of guns which are suitable for every discipline and the company has a worldwide reputation for excellence.
William Evans' own distinct style and individuality is carried over to the new St. James which, like its predecessor, still costs substantially less than many other English style over-and-under models, providing clients with an enticing combination of contemporary design, quality and value.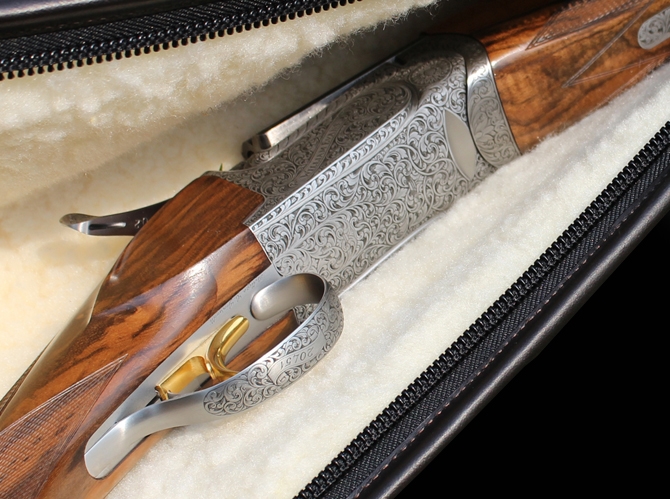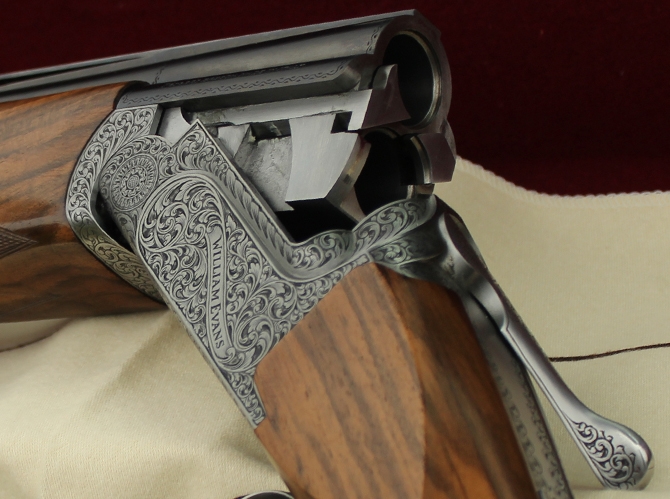 Manufactured from the highest-quality components, the St. James is based on Perazzi's MX12, MX16 and MX20 actions, the designation denoting whether it is a 12-bore, 16-bore or 20-bore.
In standard form, the St James is set up as a game gun but its design incorporates a high bespoke element, so clients can configure it to their personal tastes and requirements. Amongst the elements which can be personalised are the design of the stock, grip and fore-end, barrel length, rib style and chokes, which are fixed as standard although interchangeable Teague chokes are available.
The action used in the St James is a development of Perazzi's original detachable-lock MX8 which was originally created for the 1968 Olympic clay pigeon shooting events and has gone on to win more Olympic medals than any other shotgun in history. The new model's strong, low-profile action has non-detachable locks which enable a thinner, stronger grip to be used, a particularly useful feature in a shotgun used extensively for game shooting.
Equipped with a single, selective trigger, the St. James can be specified with 28" or 30" or 32" barrels which can be used with steel shot (provided that half choke or less is specified/used), are proofed to 'Superior' standards (1200kg) and have 3" chambers to allow heavy-load cartridges to be used.
As standard, the barrels incorporate a 7mm game-style rib and fixed chokes to the client's specification, but other rib styles and Teague multi-chokes can be specified to make the gun more versatile and enable it to be used for any quarry, from driven grouse to high pheasants.
Weighing from 7½lb in 20-bore form,the St James is fitted with an oil-finished Turkish Walnut stock and in keeping with the high bespoke content of this model clients have the option of specifying it their own measurements. Standard features include a traditional Prince of Wales grip, a gold oval onto which the owner's initials or family crest can be engraved, an English-style trigger guard and a classic rounded fore-end.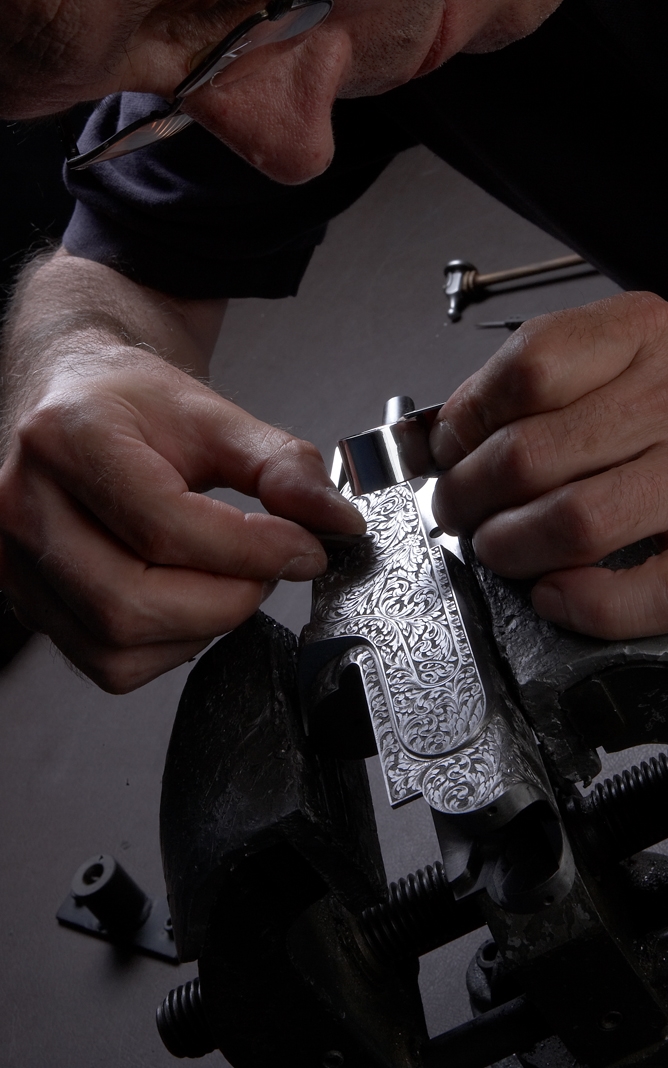 The specification also includes an adaptation of William Evans traditional scroll engraving, which is based on a pattern that we designed for a pair of shotguns made for the Duke of Connaught circa 1910. A leather case is optional.
The first of the new St. James models to be manufactured was a 32" barrelled version weighing 8lb 3oz. Designed for sporting clays and high game birds, it featured three-quarter chokes in both barrels and a solid rib which tapered from 11mm wide at the breech to 7mm at the muzzle, with a traditional metal bead sight. The specification also included a well figured 15″ stock, a rounded fore-end and round semi-pistol grip.
For more information or to purchase, please contact the Gun Rooms on:
London:
email: gunroom@williamevans.com
Call: +44 (0)20 7493 0415
Bisley:
email: bisleysales@williamevans.com
Call: +44 (0)1483 486 500
From £17,500 inc. VAT, the St. James is made to order, with delivery taking approximately 12 months.