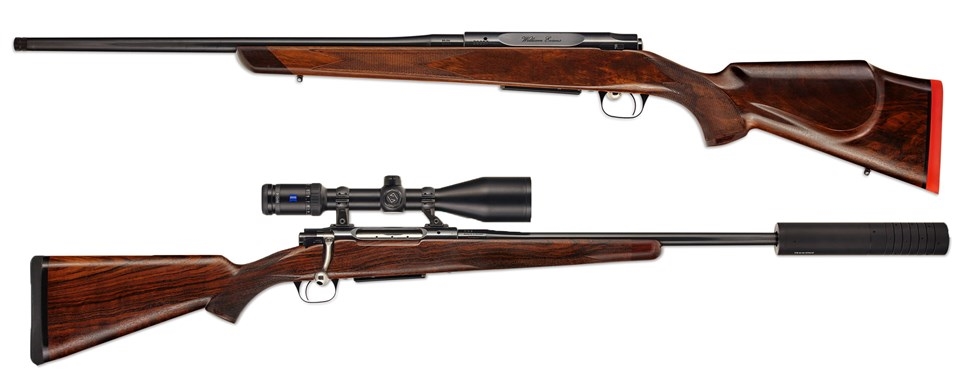 The new sporting rifles are manufactured to our high specifications and standards set by Danish firm Schultz & Larsen which, like William Evans, was founded in the 1880s. Based on the Ambassador model, regarded by many as the ultimate hunting rifle, the William Evans is available in a range of calibres. For optimum accuracy, the barrel is machined from a solid bar of the highest quality Norwegian molybdenum steel. Shultz & Larsen, which produces every component in house, right down to the screws that hold the stock to the action, are world-renowned for their barrels, which are manufactured using a 500 year old method.
Although it is unquestionably the best way to create precise grooves and a superior finish the process is too time consuming and costly for most manufacturers. The rifling is machined directly into the barrel using the latest carbide cutting technology which, unlike hammer forging used by most rifle manufacturers, ensures that the molecular structure of the steel remains unchanged. This means that when hot the barrel does not warp or lose its accuracy. Every barrel is also internally polished with an individually cast tin lap and grinding compound to obtain perfect uniform smoothness. A small taper near the muzzle ensures much longer barrel life and reduces sensitivity to fouling in the rifling.
Proofed in London, the barrels are factory-threaded to take a 'HardCore' sound moderator, which is custom-made at the Schultz & Larsen factory and represents the ultimate in precision-made sound suppression/recoil reduction technology. The design features a stainless steel core for longevity and durability together with an aluminium shell for quick heat dispersal, plus an inbuilt muzzle brake that is deliberately ported to an angle to maintain a tight fit on the barrel with every shot.
Featuring an enclosed action with a very smooth three locking head bolt, two stage trigger and three shot metal magazine, the William Evans SL Rifle is designed and manufactured to the very highest standard, yet is very competitively priced. Three grades of wood are available, the Grade 1, Grade 3 and Grade 5, which retail at £2450, £2850 and £3250 respectively.
Clients can choose from a range of options, including rings/bases for telescopic sights and an extended magazine. Additional barrels can also be ordered and these are easily interchangeable, allowing clients to own a true multi-calibre rifle, the most popular combination being the .243 Win/ .308 Win. To complement the precision engineering which is incorporated into the barrel and action, the William Evans rifle features a choice of Classic or Monte Carlo stocks, all of which are manufactured from well-aged and carefully dried walnut heartwood to provide timeless beauty combined with pinpoint accuracy.
.